How to translate any document from Cantonese to English
This document translator allows you to translate any Cantonese document to English effortlessly. For precise information on the document translation limit, use the cost calculator. Additionally, you can easily convert the translated files into various formats. Enjoy the convenience of using this application on any device, be it a computer or a smartphone.
01 Provide a file
Seamlessly upload your file in various formats, including DOC, DOCX, XLS, XLSX, PPT, PPTX, and PDF (scanned and text). Indicate whether it's a scanned document. Regardless of the size of the scanned PDF file, our program ensures swift conversion, preserving your time.
02 Fill in the order details
Register or sign in to your personal account. Complete the essential details to initiate a translation request, indicating the document's original language and the target language for the translation.
03 Pay
Finalize the payment to activate your order. The system will calculate an estimated delivery time according to the details you provided.
04 Get result
Get the final output in your preferred format with just a download.
Online document translation from Cantonese to English
Subtitles, translation, and dubbing
Subtitles only
Subtitles with translation
Document translation
Translation accuracy
Check of the translation by a specialist
coming soon
Supported document formats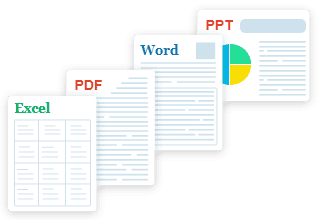 With our service, you can confidently upload your document in any of the major formats: DOC, DOCX, XLS, XLSX, PPT, PPTX, or PDF. Sit back, and let us handle the rest.
Frequently Asked Questions
Are there any limitations?
While there are limitations, they are generally adequate for most cases, facilitating the required translation. The price calculator can help you ascertain the exact limit for document translation.
Can I convert the translated document into any format?
The conversion formats at your disposal are restricted by the format of the original document. Converting to a spreadsheet is not part of the supported choices.
Can I translate a scanned document from Cantonese into English?
Translate scanned documents in PDF format hassle-free with our versatile service.