How to translate any document from German to English
This document translator can translate any document from German to English. You can find out the exact limit for document translation using the cost calculator. The translated files can be converted into various formats. The application works on any device, including smartphones.
01 Provide a file
Upload your file in any of these formats: DOC, DOCX, XLS, XLSX, PPT, PPTX and PDF (scanned and text). Make sure to specify if the document is a scanned version. Regardless of the size of the scanned PDF file, the program quickly performs the conversion, saving the user's precious time.
02 Fill in the order details
Sign up or log in to your personal account. Fill in the necessary details for ordering a translation, including the original language of the document and the desired language for the translated version.
03 Pay
Complete the payment process to activate your order. The system will give you an estimated delivery time based on your details.
04 Get result
Download the final result in the format you prefer.
Online document translation from German to English
Subtitles, translation, and dubbing
Subtitles only
Subtitles with translation
Document translation
Translation accuracy
Check of the translation by a specialist
coming soon
Supported document formats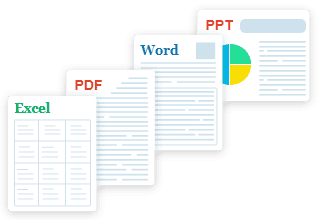 We support all the major document formats. If your document is DOC, DOCX, XLS, XLSX, PPT, PPTX or PDF, simply upload it, and we'll take care of the rest.
Frequently Asked Questions
Are there any limitations?
Yes, there are limits. But for most cases, the limit is enough to make the necessary translation. You can find out the exact limit for translation of documents using the price calculator.
Can I convert the translated document into any format?
The choice of conversion formats depends on the original document format. For example, you cannot convert a document to a spreadsheet.
Can I translate a scanned document from German into English?
Our service supports the translation of scanned documents in pdf format into the language you need.